Episode 011: Antarctica with Joanna Young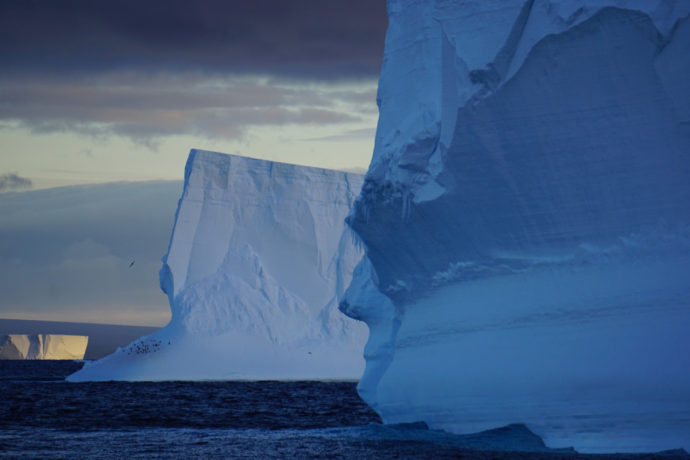 There's a lot more life going on in Antarctica than one would think, given its reputation for incredibly harsh and frigid conditions. But there's literally tons of wildlife as well as thousands of scientists gathering from all over the globe to research and share information about climate change. Joanna Young, a PhD student at the University of Alaska Fairbanks, shares what it was like to be aboard the inaugural Homeward Bound voyage to Antarctica with 76 other female scientists in 2016. Currently she's studying how glaciers in Alaska are shrinking and acting as one of the greatest contributors to sea level rise. She's also the Program lead and co-founder of Girls on Ice Alaska, an Inspiring Girls Expedition. Girls on Ice Alaska is a unique, free, backcountry science program for underserved high school girls, focused on developing young women's STEM, art, and mountaineering skills, as well as self-confidence. (image © Joanna Young 2016)
EPISODE LENGTH 23 minutes
Learn more about Joanna Young here.
Listen on iTunes  OR   Google Play OR Stitcher

Get early access to future episodes by becoming a supporting member of our community on Patreon.
SHOW NOTES
00:26 Scientific community population in Antarctica
00:39 Typical climate of Antarctica
00:49 Origin of the name of the continent and statistics
02:08 The Antarctic Treaty
[02:47] Meet Joanna Young
04:01 Sarah Palin's thoughts on predicting the weather ([00:13])
[04:16] Climate change conditions in Alaska
[06:22] Research for PhD
08:12 Homeward Bound program
[11:21] The voyage to Antarctica
11:42 The Drake Passage
[13:10] Keeping a flexible itinerary (due to weather conditions)
[13:35] Moving through sea ice and navigating glaciers
[14:10] Total overwhelm! (in a good way!)
[15:32] Misconceptions of Antarctica
[15:57] Taking the polar plunge!
[18:45] Joanna's big wish
19:33 Girls on Ice and Inspiring Girls Expeditions
22:38 Alan Grayson remark on C-SPAN regarding climate change denial ([01:09])
NOTE: This episode features the story of one individual's experience. Experiences of a country and its culture will obviously vary from person to person and it is important to do your own research from a multitude of sources. In addition, immigration rules and regulations are subject to change at a moment's notice–always check with a country's official embassy for the latest updates.
Additional links:
Joanna Young
Homeward Bound
Girls on Ice
Inspiring Girls Expeditions
Wings Worldquest
WANT TO SHOW YOUR APPRECIATION? We've just launched our first fundraising campaign on Patreon and from now on will offer early access to new episodes in Expatreonistan, our new members-only community. You can support us now for as little as $2 a month to help us offset the mountain of expenses incurred to host, produce and market. It takes a village and every little bit is a tremendous help. Click here to make a donation. Strapped for cash? You can help out by writing a short review in iTunes — reviews help us alot–it makes us appear higher in the search rankings so people can find us. Don't know how to do this on iTunes? Check out this short tutorial.
Save
Save
Save
Save
Save
Save
Save
Save