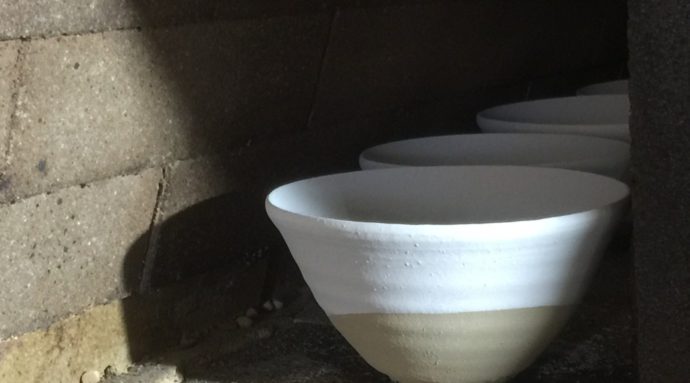 Mike Martino went from jazz musician to second degree black belt in karate to software development and then finally being a potter living in Japan for the last 21 years. Martino offers incredible insight into Japanese culture, hilarious language mishaps, and even a romp through the prison system–which turns out to be a little different from the way they do things in the US. Length: 45 minutes
Learn more about Mike Martino at Karatsu Pots.
Subscribe and listen on iTunes    Google Play   RadioPublic   Overcast
SHOW NOTES
01:14 What is Kintsugi?
02:04 Where the hell is Taku, Japan?
04:10 Karatsu? wha?
[05:11] Clay type from the region
[06:02] Gas and wood-fired kilns
[06:29] Why is pine the best for wood kilns?
[07:47] Best method of sleep for stoking fire every 25 minutes for 72 hours
[08:44] The agony of cooling off
[09:16] Who are "the kiln Gods?
[10:13] Software developer vs potter–pros and cons
12:38 Where's the most badass jazz school in the world?
[14:17] Black belt in karate hits the wall
15:01 New Zealand's Settlement Index: Turn that frown upside down!
[15:46] Language mishaps: no charge for the cockroach
[19:33] News of the heart
[20:24] Meet the parents
[23:03] Navigating an international marriage
[23:49] Raising bilingual boys
[24:55] 20 days of nonstop fun in a Japanese prison
[34:30] So funny I forgot to laugh: cultural differences in humor
35:12 What is manzai?
35:31 Downtown is Japan's most influential comedy duo
[36:44] Missing McDonald's?
[37:55] Change is inevitable
[39:37] Now that I know Japanese, why are you looking at me that way?
41:50 Marginal man theory
Like what we're doing? Want to help us continue?
Show your support now at Patreon with a donation. Thanks!

Save
Save
Save