EVER WONDER WHAT IT'S LIKE TO LIVE IN ANOTHER COUNTRY?
LISTEN TO EXPATS SHARE THEIR STORIES OF THE BEST, THE WEIRDEST AND THE WORST OF LIVING ABROAD.


 WHAT THEY'RE SAYING ON ITUNES...
If you like This American Life, Radiolab or Freakanomics, you'll love Expat Sandwich    

April 4, 2017 by 'MuricanExpat from United States
I love podcasts like This American Life, Radiolab, Freakanomics, The Joe Rogan Experience, Criminal, The Moth, Serial and Stuff You Should Know. I just discovered Expat Sandwich, and I have to say, it's every bit as awesome as these ones! Super production quality, editing and sound quality. And of course I'm into travel and expat stories, as I'm an American living in Europe and can totally relate to the people featured in these episodes. Great stories! New favorite podcast!
I didn't think I liked travel stories    

February 19, 2017 by medivideo from United States
I usually thumb through the travel section in the paper without much interest. When I started listening to Expat Sandwich, though, I couldn't stop. It's fascinating to learn about people's unique motivations for choosing life abroad, then to hear them describe the pleasures and frustrations in their new lives. The stories are put together in a literate and thoughtful way that unfolds the very personal stories while inviting thought on big-picture issues. I've learned and been entertained, and I'm waiting impatiently for the next one.
Entertaining and honest    

May 1, 2017 by Olliaya from United Kingdom
May be that's because I lived abroad for my entire adult life, but I absolutely love this podcast. I'm always very excited for a new episode.
WANT TO LEAVE US A REVIEW? GO FORTH NOW!
This time OhGodMyWifeIsGerman.com interviews host Marty Walker.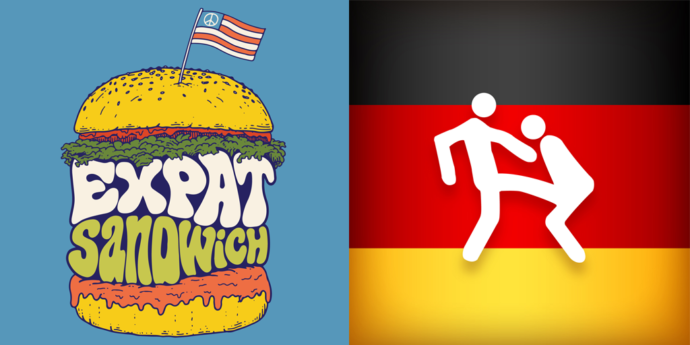 He gave it his highest ranking. 5 Merkel Diamonds. (blushing)


Save
Save
Save
Save
Save
Save
Save
Save
Save
Save
Save
Save
Save
Save
Save
Save
Save
Save
Save
Save
Save
Save
Save
Save